I tried updating the salt way (sudo qubesctl --show-output --skip-dom0 --templates state.sls update.qubes-vm) as well as the GUI way, with approximately the same results, which are attached (ignore the Whonix error, that is transient and I was able to update Whonix using the GUI).
Here is what it looks like trying to update apt sources in debian-11 template (which should be unmodified):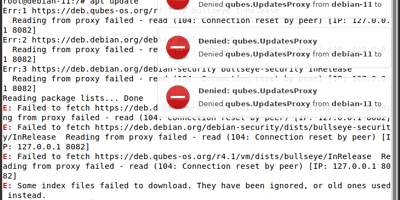 (note the simultaneous GUI messages about qubes.UpdatesProxy)
Because of these, I updated my /etc/qubes-rpc/policy/qubes.UpdatesProxy to the following:
$tag:whonix-updatevm $default allow,target=sysWhonix
$tag:whonix-updatevm $anyvm deny
$type:Template $default allow,target=sysNet

don't worry about the different names I have chosen, those are essentially the same as the snake-case version that comes with Qubes, but I have the convention for my system that any name with a - in it is a template.
Anyways, I'm still getting the errors updating debian or fedora, so please advise if I'm missing a troubleshooting step or if I looked at the wrong proxy settings.