Hey,
first of all I am fairly new to Qubes Os. Before I used Ubuntu, then switched over to Manjaro KDE Plasma and finaly to qubes.
Now I have the problem that my WiFi is not showing in my Networkmanager systray. Ethernet is possible and works.
Devices attached to sys-net: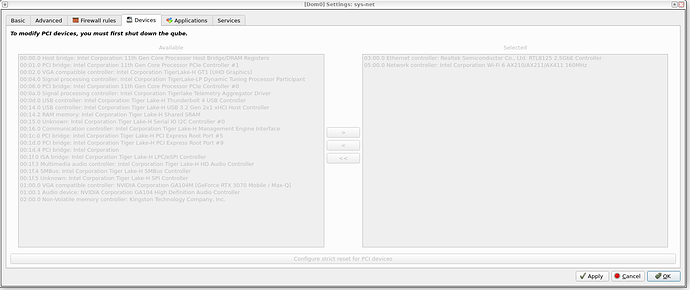 Services enabled on sys-net:
clocksync
network-manager
As you can see my WiFi adapter is connected to sys-net and therefore it should be possible to use it. I have no clue why it does not.
My sys-net is using fedora-34 template and I am using the 4.1 version of qubes os. Also there are no updates avaiable for all templates.
I also downloaded the official linux driver from intel (iwlwifi-ty-59.601f3a66.0.tgz) and copied it to firmware folder on TemplateVM, which did not help either.
Thanks for any help!