I'm new to Qubes and am very interested in this approach to security. I'm trying Qubes on my new Ryzen 7 Framework, I mention this as there might be some hardware incompatibility issues I may run into.
For example I'm adding x2apic=false to the bootup, which has bypassed issues I've had with system hangs at installation.
I am trying the 4.2 RC4 beta release. I had more issues with the 4.1 stable release even with the above fix.
Right now my issue is that I can complete an install of 4.2 but there are no template VMs and I only have dom0.
These are the only errors visible during installation:
Drcut-initqueue[1506]: Unknown device "/dev//run/install/repo//images/install.img": No such device
Dracut-initqueue[1507]: Unknown device "/sys/": No such decice
The installer will complete but rebooting results in just dom0, no Fedora or Debian templates, so sys-network or other qubes. Which makes sense as the software section on the looks like: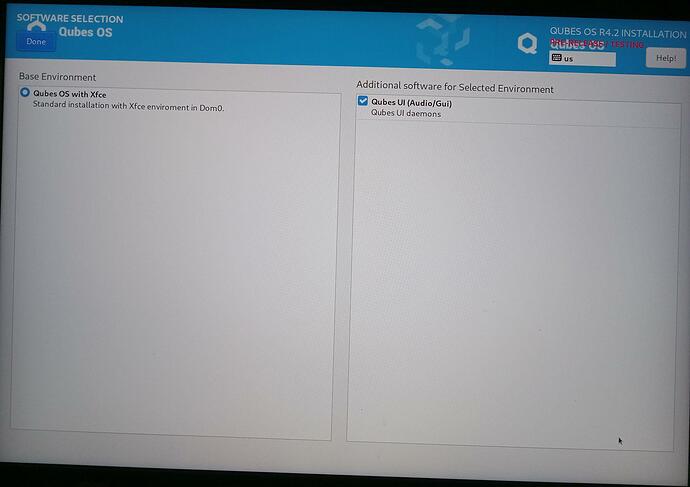 And YES, I have tested the checksum of the .iso downloaded multiple times, different ways (direct from the website and torrents), and used several different USB drives-- all of which have been used successfully for other lives and installs.
I used the command:
$ sudo dd if=Qubes-R4.2.0-rc4-x86_64.iso of=/dev/sdb status=progress bs=1048576 conv=fsync
I'm stumped, any insights would be helpful.