Hi everyone, I think something went wrong around here… After researching this error, I saw that some people also experienced a similar problem, but always with a peculiarity that made their case unique. That's why I am creating this topic.
After months of using Qubes 4.1.2 without any problems, I came across the following error screen after starting the system today: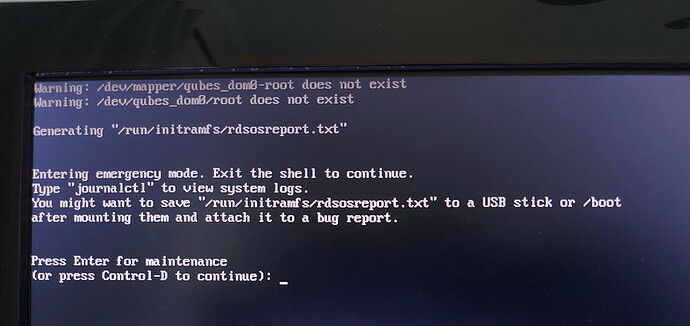 This error appears exactly after I enter the password to decrypt the disk. I guarantee I'm not getting the password wrong. But I must say that the decryption process is taking a much longer time compared to when the system was working normally.
If I press Control-D to continue, this is what I get:

Some details that may be relevant:
Last night something quite strange happened. My keyboard just stopped working out of nowhere, something that never happened before. As it was already at the end of the day, I simply turned off the computer in the hope that when I started it today, the keyboard would work naturally again. How naive…
While I was researching the problem, I noticed in some instances that the cause may have something to do with running out of disk space. Well, again last night, I received a system alert message warning me that my disk was getting full. I don't remember why, but at the time I thought that it was actually the space of the VM I was using that was getting full, so I simply increased the space allocated to that VM in its settings.
Again while I was researching, I noticed that when pressing Enter for maintenance, other people enter the dracut emergency shell (dracut:/#), whereas in my case I enter the sh-5.0# shell.
If the problem really is related to a lack of disk space, there is a particular VM that I've created that is taking up a considerable amount of space on the disk, but there will be no problem for me in simply deleting it. If it is possible to just delete a VM through this shell, perhaps this could be a solution, but I don't know how to do that.