I have encountered one of the weirdest errors today while trying to install Qubes.
When booting the install USB it gets stuck on a screen that states the following, "15:20:47 Not asking for VNC because we don't have a network", "Gdk-Message: 15:20:56.729: anaconda: Fatal IO error 0 (Success) on X server :1.", and at the bottom of the screen it says Pane is dead (status 1, Thu Mar 9 15:20:56 2023).
Here is a picture of it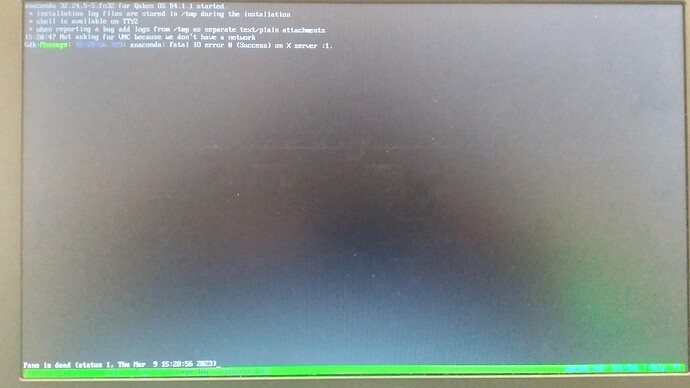 The computer I am using is a Asus Notebook PC, the model on the bottom says E210M
I did make sure the BIOS was up to date, I could not try legacy boot because some newer Asus computers don't have support for it (my computer is one of those).
The weirdest part about this error is its error 0, which means success, which why would it be a fatal error then.
edit: forgot to include this but I am trying to install Qubes R4.1.1