My initial problem
WiFi was working and connected 2 hours ago.
The option to look for WiFi networks does not occur now. WiFi Networks don't just not show up, the button for what WiFi is around me does not show up.
Chat GPT's response:
Input:
"I am using Qubes OS. I find WiFi is not showing up. Not just WiFi, but the spot to see what networks are available. What do I do? It worked earlier. Ethernet works."
Output: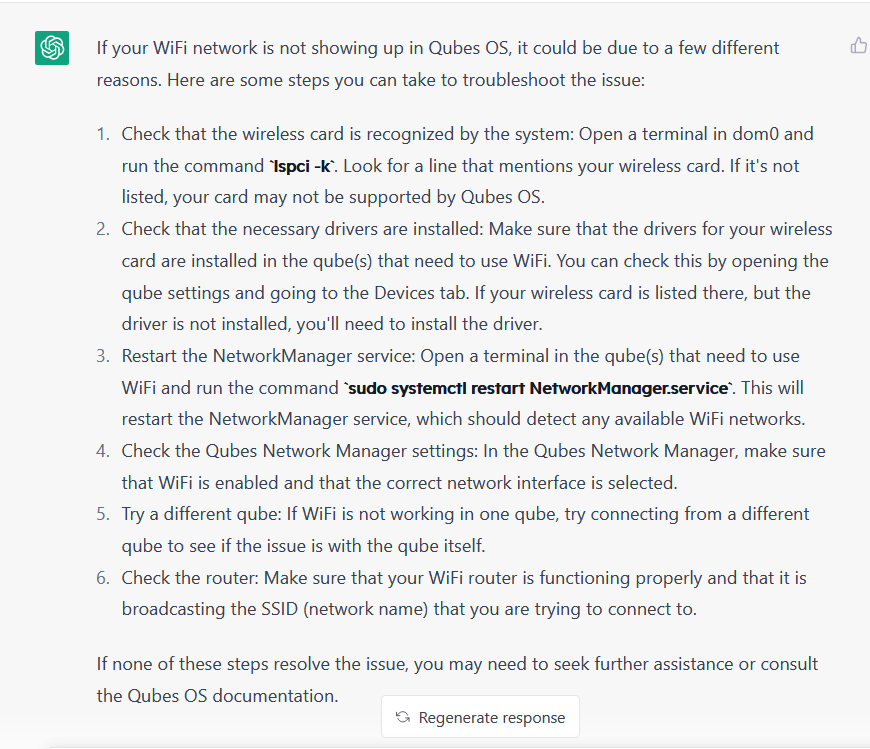 Text output for search-ability and Vision Assistance Devices

If your WiFi network is not showing up in Qubes OS, it could be due to a few different reasons. Here are some steps you can take to troubleshoot the issue:

Check that the wireless card is recognized by the system: Open a terminal in dom0 and run the command lspci -k. Look for a line that mentions your wireless card. If it's not listed, your card may not be supported by Qubes OS.

Check that the necessary drivers are installed: Make sure that the drivers for your wireless card are installed in the qube(s) that need to use WiFi. You can check this by opening the qube settings and going to the Devices tab. If your wireless card is listed there, but the driver is not installed, you'll need to install the driver.

Restart the NetworkManager service: Open a terminal in the qube(s) that need to use WiFi and run the command sudo systemctl restart NetworkManager.service. This will restart the NetworkManager service, which should detect any available WiFi networks.

Check the Qubes Network Manager settings: In the Qubes Network Manager, make sure that WiFi is enabled and that the correct network interface is selected.

Try a different qube: If WiFi is not working in one qube, try connecting from a different qube to see if the issue is with the qube itself.

Check the router: Make sure that your WiFi router is functioning properly and that it is broadcasting the SSID (network name) that you are trying to connect to.

If none of these steps resolve the issue, you may need to seek further assistance or consult the Qubes OS documentation.
My thoughts on proposed answers:
It was recognized 2 hours ago.
It was used 2 hours ago.
I will try that.
I will try that.
I won't try that. Don't mess with default configurations as I don't know what I am doing.
The router worked for everyone else on my campus. As such, I can't check it.
Notes about AI:
Check ChatGPT will be the equivalent of "just Google It" for Linux Problems.
Every day we grow more dependent upon companies.
Hopefully we will get Natural Language Models that are grown and raised by the community that can be self hosted. It will be like having a mini brain that is both smarter than you and weaker than you at the same time.
For those concerned about me using ChatGPT on the forum

It is in an attempt for me to answer my own problem.
It is labeled as Chat GPT, I am transparent on my sources.
I would otherwise lack the skills to attempt my own answer to my own problem.
In responses to other people's posts, I would not use ChatGPT. For me to answer my own problems, sure.
The kinds of people that know how to answer these sorts of problems are probably swamped with questions. Using tools to assist with the situation is good.