Hello,
Today i made a fresh install with qubes 4.1 and because i dont have a ps2 connecter i am forced to use a usb keyboard. So after i finished the install and updated everything i wanted to create the usb qube with this command:
sudo qubesctl state.sls qvm.usb-keyboard
everything worked? but when i rebooted and used my encryption password the system wouldnt boot. So i tried again with a fresh install and before executing the same command i tried to install the package that is listed in the docs:
sudo qubes-dom0-update qubes-mgmt-salt-dom0-virtual-machines
But this only gave me the error curl 37 and that it couldnt open the file and that the package is already installed. So i checked the version that is installed with the latest one in github and just tried:
sudo qubesctl state.sls qvm.usb-keyboard
again. But after rebooting and decrypting it just hang itself up. In the picture is the output (i censored some stuff bc i dont know what i should and shouldnt share)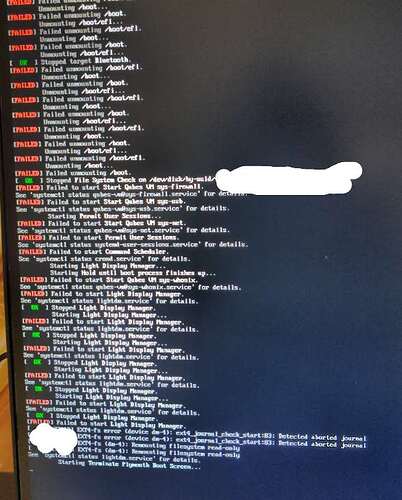 edit:
i made an uefi install does this play a role?