Hi,
Will qubes ever get out of the 'testing' phase?
I have been using qubes for a year and decided to do a system reinstall. Unfortunately qubes does not see templates at all (as you can see in the screenshot), and without templates qubes is useless. Why is this happening?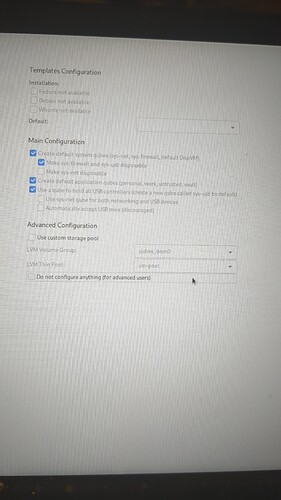 I downloaded qubes from the official site, created a USB installation media with rufus on two different memory sticks. Installing dd according to the documentation. The device is a Thinkpad laptop on which I have had qubes installed for the last year.
How is it that after so many years of project existence, qubes still has such trivial problems related to the installer itself?
When I'm at work, should I focus on the tasks set by my employer and rely on the OS as my primary work tool, or should I focus on troubleshooting qubes, then reporting problems to the qubes forum, and then collecting system logs?
I have used qubes and in my opinion, the user should not be constantly thinking about how to organise or fix something in qubes. By using qubes, the user constantly has to fight for the survival of the system…
I had qubes installed on three devices: two laptops and one desktop computer. Over the past few days, I have noticed a problem with the sound on each device - to put it simply: suddenly the sound on each qubes stops working, to the point where the whole computer had to be rebooted. I haven't reported this problem anywhere, because it annoys me that such basic OS functions don't work.
Tell me, what advantage does qubes have over windows? When will qubes reach its maturity?
Being able to use a 4k monitor, connecting an external sound card, using a second graphics card - these three example things can be done in Windows in a few ninutes. In Qubes, they can even be done in a few hours - seriously?
More than once I've come across the opinion that "minimal templates are better", and the documentation says to create and configure minimal templates… Really? Instead of providing configured and ready-to-use minimal templates as repo packages, you expect users to configure minimal templates themselves? What is the problem with providing configured minimal templates instead of providing strange and confusing instructions?
Most tutorials and documentation recommendations are ridiculous because they present long lists of commands that need to be copied from VM to Dom0 or rewritten.
When you ask yourself "how do I install sys-gui?", the answer is a long list of commands that will ultimately do nothing.
When you ask yourself "how do I install sys-audio?", the answer is a long list of commands whose execution will completely cripple the system.
I have tried to configure the sys-gui and sys-audio domain on several computers using the documentation and numerous tutorials on the forum - the same thing every time.
Split-pgp? Doesn't work.
Windows HVM - When I connect a physical network card to the HVM and do a boot VM, I suddenly get the message "error: bootable device not found". How is it that the VM suddenly stops seeing the bootable disk when I plug the network card into the machine configuration?
Qubes doesn't make life easier, it complicates it.
Example: I can't fire up qubes on a laptop with an nvidia graphics card. Usually when there is such a problem, it is the developers of Windows or another distribution who fix the problem. They are the ones who eliminate the problem. And in Qubes? I beg to differ… The problem is still the same, you can dig through all the documentation including the forums (leaving aside the fact that you can find different and inconsistent solutions everywhere).
Another example: I wanted to test an automation software - ansible. To do this, I intended to have one fedora-based qubes, from which I wanted to manage several other debian-based qubes. When I started searching the forums for information on how to pass traffic between several different vm's it made me catch my head…
I got the impression that Qubes is all about the developers and the chief users of the forum. For example: Why does qubes impose a default xfce environment? Why, in order to use a more user-friendly interface, does the user have to go through a bunch of weird tutorials on how to install kde, which is not supported by the main maintainers of qubes?
Initially I liked the concept of qubes and tried to use it as my main OS for work and home, but I admit - I gave up. I spent 60% of my working time trying to organise qubes work and fixing things that didn't work through qubes.
I think I still like the concept of qubes, but the quality of implementation and ability to adapt quickly here is disappointing. What is your development plan for Qubes in the coming years? When will Qubes become reliable?