Hello, I recently reinstalled Qubes OS to UEFI and I had to use some work arounds in the faq. I commented out mapbs and noexitboot according to UEFI Troubleshooting | Qubes OS. When the installer finished I edited xen.cfg to remove two lines of text to match the example in the faq though I left the global line at the top. My xen.cfg and BOOTX64.cfg should both read:
global
default=5.4.98-1.fc25.qubes.x86_64

[5.4.98-1.fc25.qubes.x86_64]
options=loglvl=all dom0_mem=min:1024M dom0_mem=max:4096M iommu=no-igfx ucode=scan efi=attr=uc

Whenever I try to boot from the installation on my SSD I get the following error below that quickly flashes and forces me back to boot manager.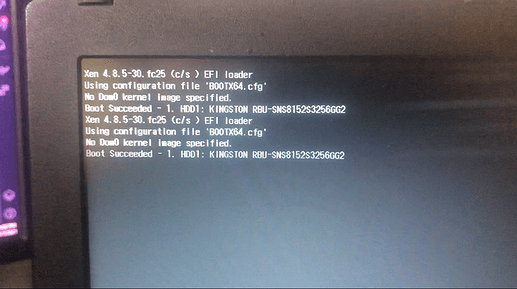 To get my SSD to read as a bootable device on bios I followed Boot device not recognized after installing