Hi, happy to join this forum and the forum bot introduction was the best!
I tried for some hours to find things in the installation guides and also tried searching. As I am new to Qubes and somewhat limited with Linux, I may have missed the correct information. Also, I am unable to follow some of the instructions, e.g.
I don't know how to attach the log files to a support request, or how to copy the text from the screen to type it here. All I have is the low quality picture below.
"Enter Grub, move selection onto first choice, press Tab" → I don't know how to enter Grub
at the message "Pane is dead" I can switch to the shell and enter some commands, but the keyboard layout is wrong (should be de), I don't know how to fix that.
I expect to be good with Linux and shell for daily use, just not so much for troubleshooting.
I use Intel Celeron N4020, that means IntelVT-d and IntelVT-x with EPT are supported, and the Intel UHD Graphics 600 is not Nvidia, so the hardware should be fine.
I managed to create a booting USB device using Rufus from Windows, and it will get me to the Qubes installer screen. I can select Install Qubes, and the installation process will display these messages: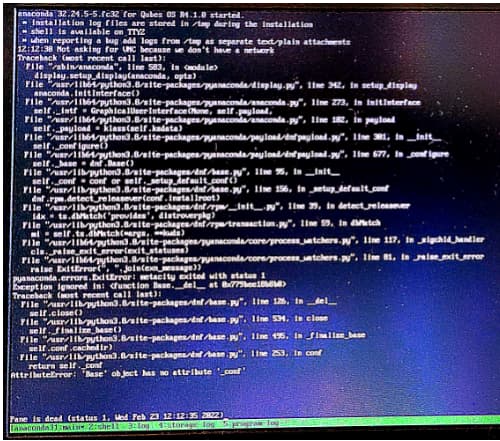 Installing Qubes results in 'Base' object has no attribute '_conf' after the Installer screen, then the message "Pane is dead" appears.
Please respond to any of these questions:
Should I report this issue as a bug? What information need to be included in such a report?
Does it make sense to try different options to create the initial USB drive with Rufus? I tried both MBR/GPT options, and both NTFS/Fat32 options. I could try ISO instead of dd if that might help. Instructions also mention to try different USB device brands.
I have the choice to plug the USB directly or via USB hub (mostly to protect the female USB port on the laptop from over-usage). As both are recognized and bootable, there is no other difference expected, is this correct?
Do you have any idea how I might continue successfully? When is the time to try a different Linux distribution?
Instructions for the missing skills mentioned above?
Any other comments or questions?
Thanks in advance!