After the BIOS update (to 2022/05/12-v3802), I lost opportunity to continue using Qubes OS.
My, a year ago installed vanilla Qubes OS, is still well booted to dom0, I can create an remove AppVMs, but I can't start an AppVMs : because dom0's PS/2 keyboard and a mouse stops working, the clock on the dom0 XFCE panel is working, dom0 terminals are delayed.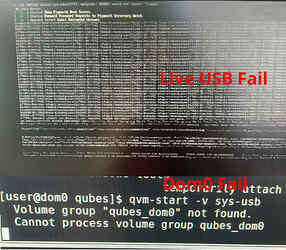 The Qubes OS live USB is not working, so I can't reinstall the system as I do that before. I've already tried my early used for installation USB with v4.1.0 and a new one with v4.1.1 - the same result.
So, my dom0 is working perfectly, AppVMs and live USB are not working. (BIOS downgrade is blocked by the vendor

) The BIOS is in it's default settings state, IOMMU and SVM Mode (CPU Virtualisation) are enabled.
Please, suggest ways to solve the problem. What are the BIOS settings I should try to change?