It seems like we've been making a nice progress in having this forum ready for announcement. I've gone through everything and found some final tweaks that I think could be important (or nice) to have before the launch. We also have to get a consensus on Importing qubes-users discussions.
@michael sorry to make you take a look at more settings, but I promise it's the final look (at least from my part).
What do others think about these changes?
Changes to settings
Tweak some settings in the admin area.
change title - It's currently "Qubes OS". I think it should be "Qubes Community" or "Qubes Forum" or something.

enable allow user locale - Allow users to choose their own language interface preference. Might be nice especially since the forum is welcoming localized discussions.

enable hide user profiles from public - Disable user cards, user profiles and user directory for anonymous users.

Even though the forum is public, I think user cards could require a login as a privacy concern. This would avoid anonymous crawling of user profile information.

disable log anonymizer details - Whether to keep a user's details in the log after being anonymized. When complying to GDPR you'll need to turn this off.

disable share anonymized statistics - even though telemetry is useful, we know anonymity is hard and so I think people in this community would me more pleased with this disabled.
Changes to categories
#documentation category may be now redundant with the #user-support. I would propose we have a pinned topic in #user-support instead referring users to the official documentation.

prevent non-admins from posting in #news - I can't confirm if this is done

ordering - regarding the ordering, it is currently reordering the categories automatically according to the activity they have. I think that will be fine as long as the colors of the two dominant categories don't clash.

coloring - even though this is a matter of personal opinion,

colors could be more diversified - Currently #news #user-support #documentation #website are all with the same color.
With these proposals it would look something like this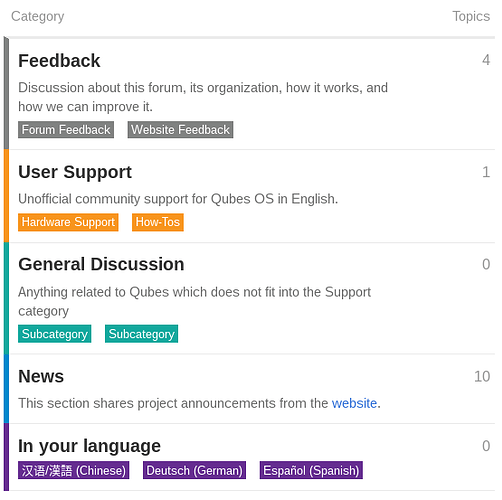 Theming
This is a minor thing, but the current theme is named "Light" and so when the user goes to the user settings to select the theme it shows two options called light. @michael could you rename it to "Qubes"?
It will also avoid confusion in case an admin wants to tweak the theme in the future.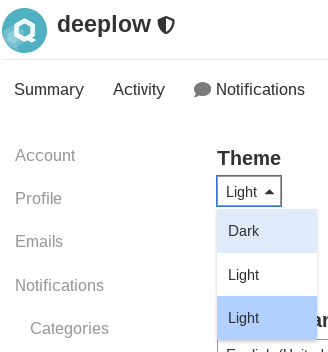 Privacy policy
The current one is discourse's default. I think this could be looked at.